FIRE MILITARY INDUSTRIAL LAW ENFORCEMENT OUTDOOR DIVE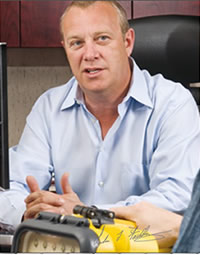 Dear Customer,
Our continued global expansion is evidenced by the recent acquisition of the leading Australian manufacturer of rotationally moulded storage and transit cases, Trimcast, Pty. Ltd. This acquisition is an example that underscores our companywide commitment to bringing to market the widest variety of high-impact, protective case solutions in the world.As such, in the coming months, we will be rolling out several more new products, services and technologies. With market research and feedback from our customers, I'm confident that our new products will meet needs not met by any other case company.
Additional advancements include the increase in our standardized solution products, the Peli Roto Pack offering. You'll find this group under the Peli-Hardigg™ brand in the following pages. It includes an array of single lid cases, extra-large shipping containers, rackmount cases for electronics, and specialty products such as the mobile field desk.
You'll also find within a focus on Advanced Case Solutions which leverages years of customization experience and a business model that literally executes on the promise "Protecting All That You value". Peli-Hardigg Advanced Case Solutions Centres provide a high level of case, cushioning and protective solutions. These solutions include everything from layered foam cushioning to extremely complex metal work and mechanized enhancements.
With one call, you can bring the expertise of more than 70 engineers, manufacturing facilities (USA, Europe and Australia), and strategically located solution centres to any technical challenge or deadline you face.
Please take a moment to peruse the pages herein and let us know how we can support your protector case needs.