LEARN ALL ABOUT ATEX DIRECTIVE 2014/34/EU
WORKING IN A HAZARDOUS AREA MEANS POTENTIAL DANGER!
A hazardous area is defined as an area in which Explosive Atmospheres could be present, and thus could require special precaution for the construction and use of electrical equipment.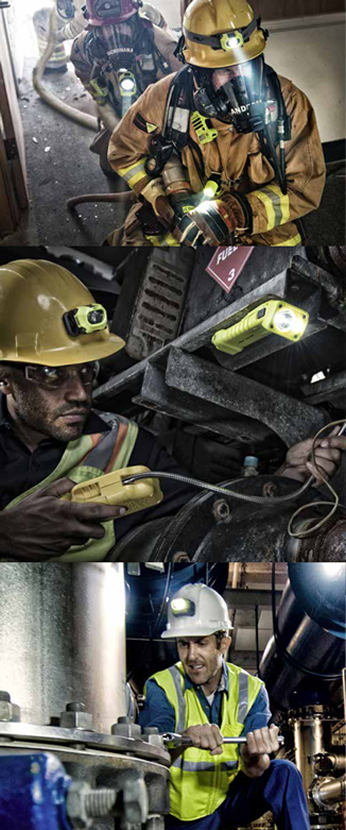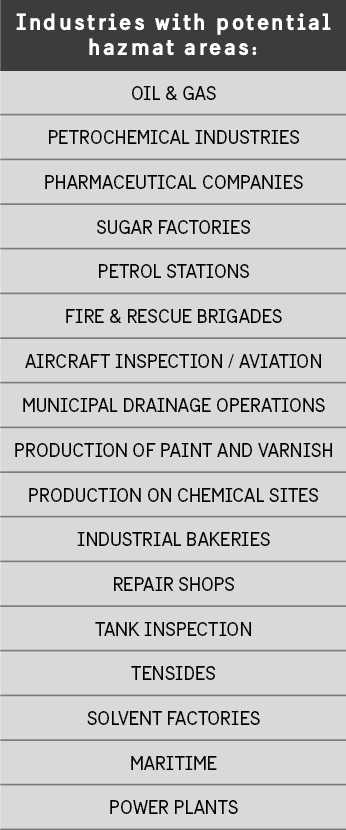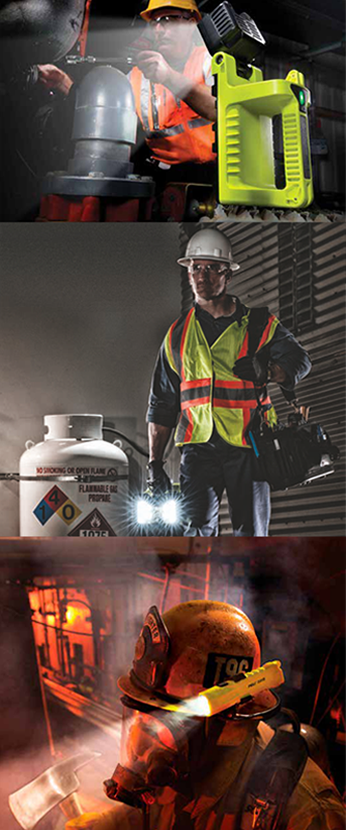 SAFETY MANAGER!
An accidental explosion in a hazardous location could mean serious injury for an employee.
Only an Authorised supervisor should decide the Lighting ATEX Category for each Zone after strict evaluation.
WHAT IS AN EXPLOSION AND HOW DOES IT HAPPEN?
An Explosive Atmosphere consists of a mixture of flammable substances with air in the form of GAS, VAPOUR OR MIST in such proportions that it can be ignited by excessive TEMPERATURES, ARCS OR SPARKS.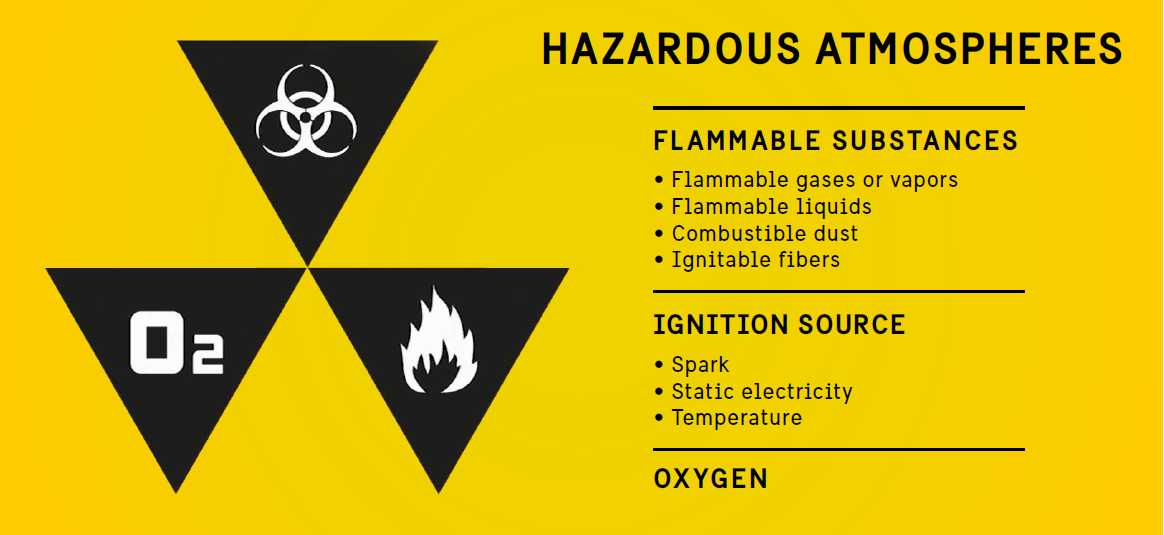 Lighting tools used in hazardous areas must be safe to operate and therefore need to comply with with ATEX Directive 2014/34/EU
 ATEX DIRECTIVE COMPLIANCE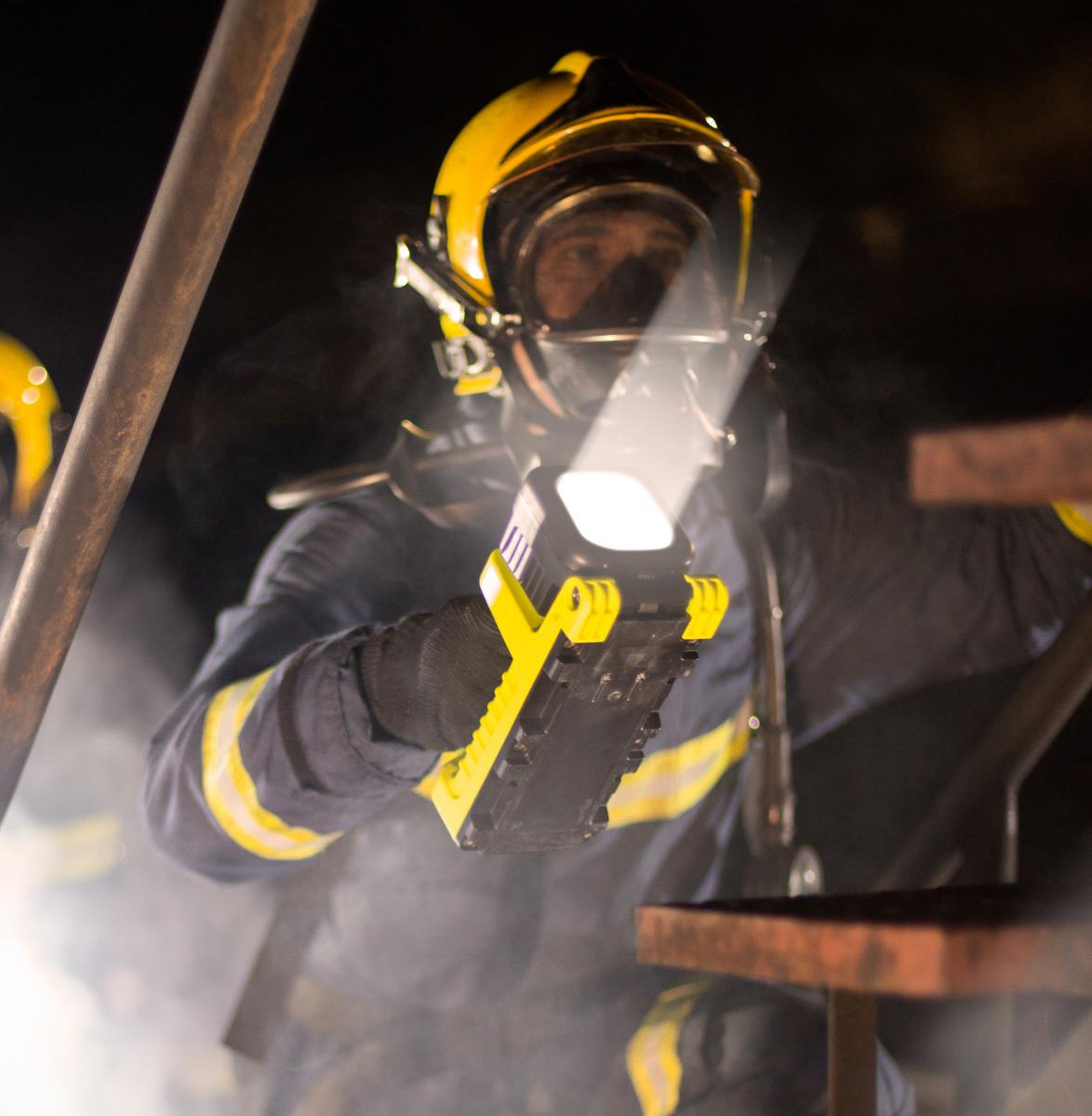 The ATEX Directive is a Directive adopted by the EU for products intended for use in Potentially Explosive Atmospheres. ATEX Directive 1994/9/EC became mandatory for manufacturers and end users on the 1st of July 2003. The new Directive, 2014/34/EU, was released on the 26th of February 2014 and has been applicable since the 20th of April 2016.
The ATEX Directive 2014/34/EU regulates that manufacturers are forced to supply properly certified electrical equipment to be used in potentially explosive areas. From the workers side there is another ATEX Directive (1999/92/EC) that regulates the requirements for improving the safety and health protection of workers potentially at risk from explosive atmospheres. Both Directives are mandatory.
These Directives state that each area needs to be classified according to the potential hazardous risk so that only appropriate certified equipment can be used there. With the old CENELEC (previous Directive), different areas were divided into three classifications: Zone 2, Zone 1, and Zone 0 depending on the level of risk. With the ATEX Directive, every Zone is associated to a Category, and every electrical equipment is classified according to these categories, certifying in which areas it can be safely used.
Under the reviewed ATEX Directive for Zone 0 & 1 areas, the standard EN 60079-0:2012 came into effect in April 2015. The most significant change was the need to mould in anti-static material or apply anti-static coating to the products in order to successfully pass the strict ATEX test. In some models, those changes implied modifications of the light output however, Peli invested in R&D to guarantee the high-level performance of its lighting system range to effectively illuminate a working space while maintaining the same safety standards for workers.
 ATEX ZONES AND CATEGORIES CLASSIFICATION
Potentially hazardous locations are divided into Zones:
0, 1, 2 for Gas, Vapor, Mist
20, 21, 22 for Dust
Torches approved for usage in these zones are divided in Categories (1, 2, 3)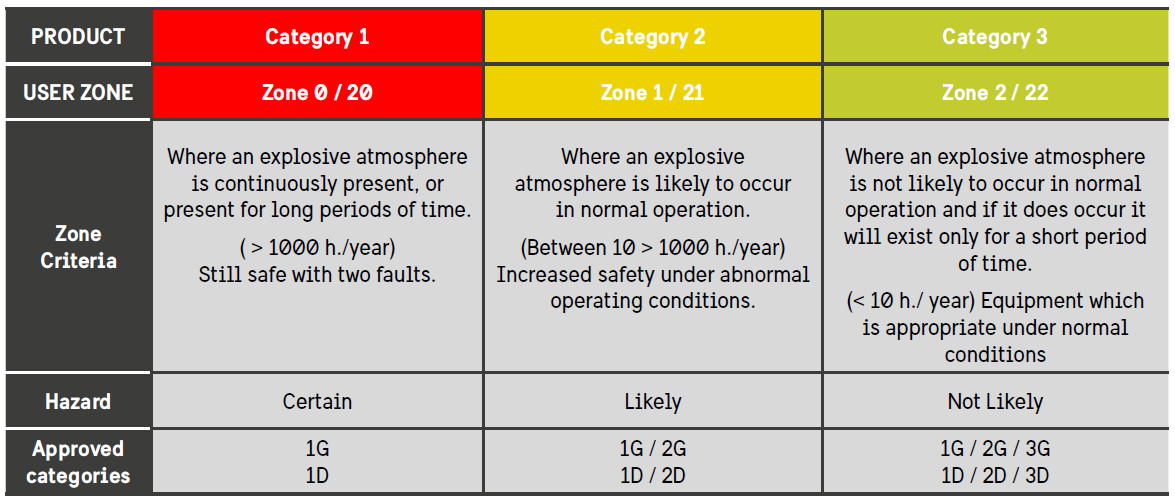 IS MY TORCH CORRECTLY CERTIFIED BY ATEX?
To meet the exacting requirements of ATEX directive 2014/34/EU, Peli Lights are tested to ensure that they pose no threat of ignition when operating within hazardous locations. Using approved laboratories, the lights are tested to ensure that they will withstand rigorous impact and drop tests, severe environmental exposure and meet a minimum of IP54 water and dust ingress protection. Longevity and safety are assured by design. Lights with gas approvals do not require impact test and gas approval only requires IPX4 (gas approval does not require dust test IP5X. Dust approval requires IP6X dust test).

Each light certified by ATEX should have a code printed on its body. This code advises the user as to the zone in which it can be safely used without risk of explosion.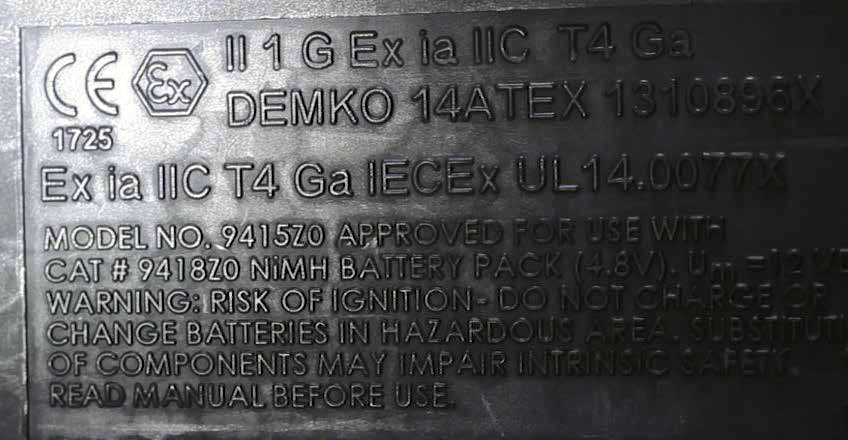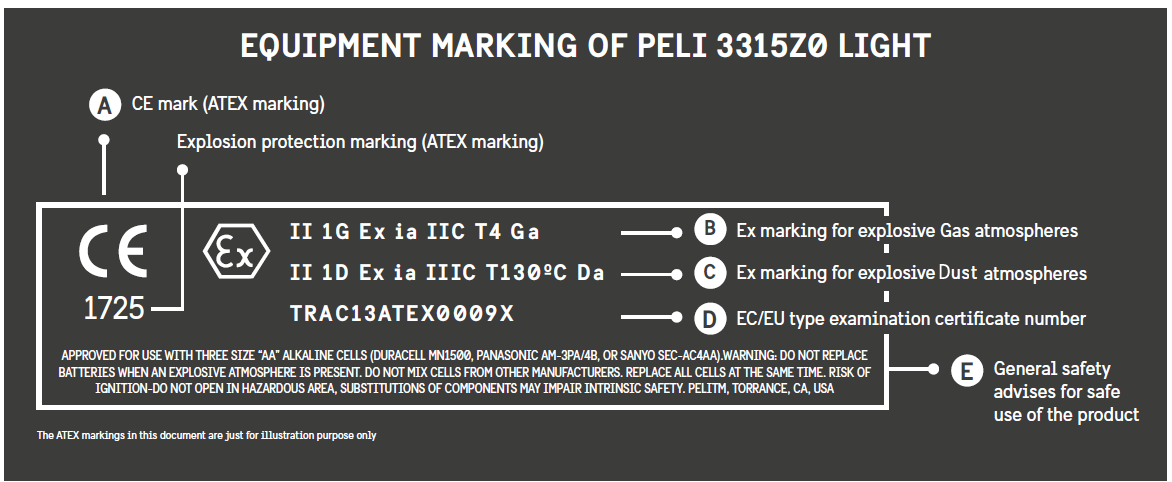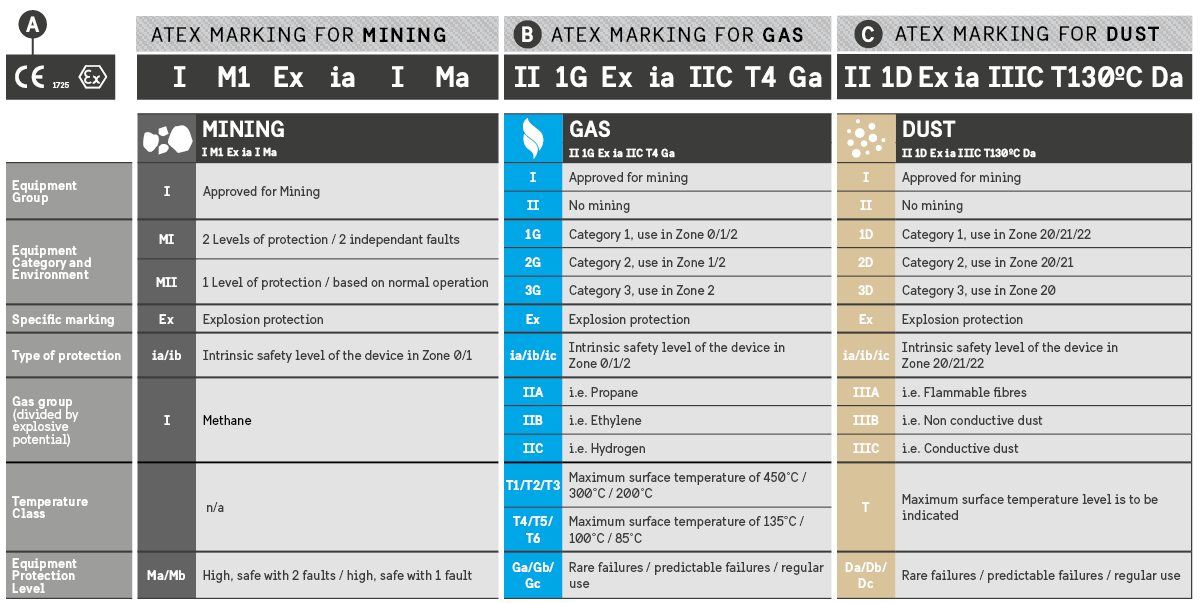 GAS GROUP
Gases are divided into two groups based on the LEL and UEL values.
"
The Auto-Ignition Temperature is the temperature, in ºC, at which a gas will ignite spontaneously without another source of ignition.
Because there is NO correlation between Ignition Energy and Ignition Temperature for the gas groupings, a temperature code was established:
The Temperature Class is based on use in an ambient temperature of -20/*40ºC (no need to be shown). If the ambient temperature differs from that range, it needs to be shown.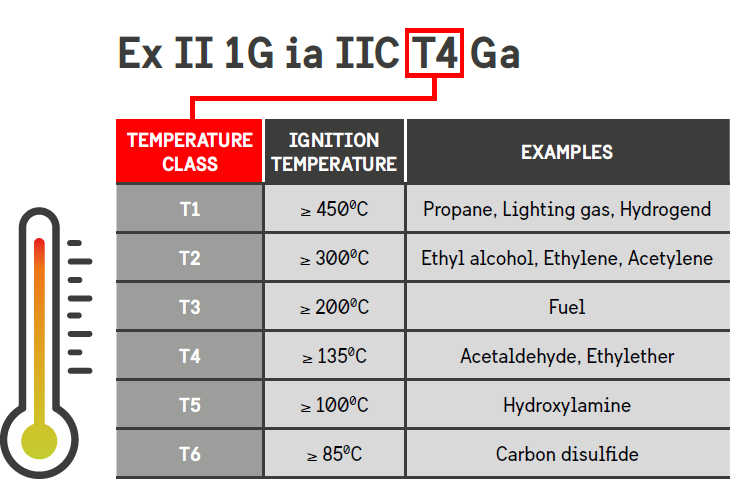 DUST GROUP
Dust areas are defined as group III and refers to equipment intended for use in
spaces with an explosive dust atmosphere other than mines susceptible to firedamp.
MAXIMUM SURFACE TEMPERATURE
Group III electrical equipment is marked with a temperature with 'T' prefix detailing the actual maximum temperature that may be found on any surface accessible by a potentially explosive dust atmosphere. Ignition temperature of a specific dust hazard must be higher than maximum surface temperature displayed on electrical equipment.
IGNITION TEMPERATURES FOR COMMON COMBUSTIBLE DUSTS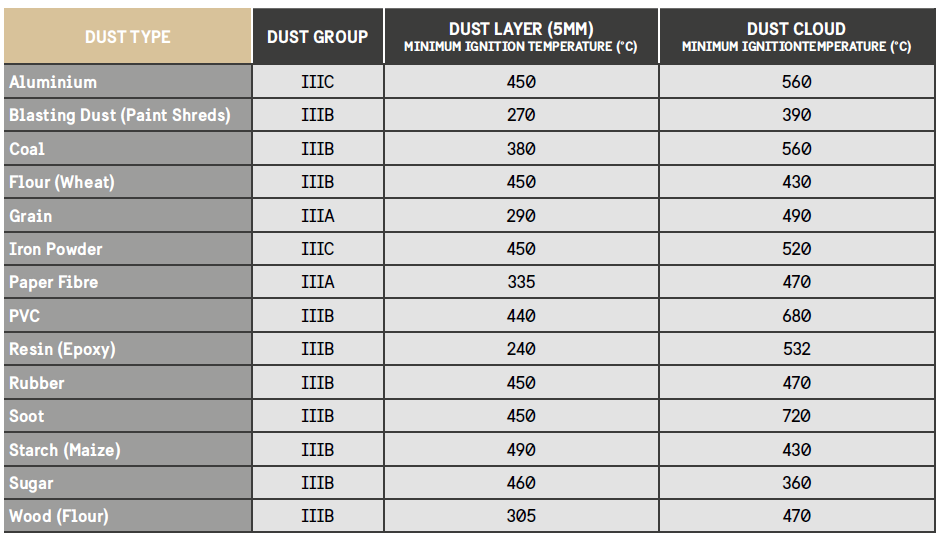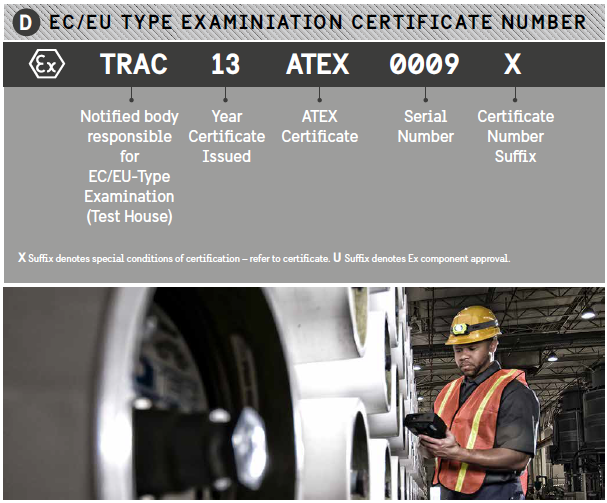 Hazardous location safety approvals for explosive areas, also affect the batteries that run the equipment. Different batteries might perform differently, so the ATEX certificate might be different as the tests deliver a different result (i.e. on Temperature Rating).
Therefore, it is very important to ONLY use batteries that have performed the tests to obtain the ATEX certificate.
The use of any other batteries invalidate the Ex Certificate.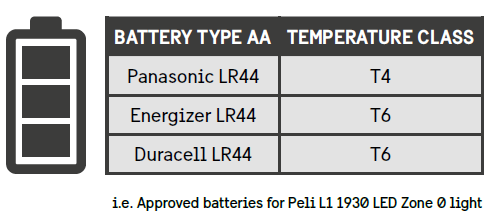 IP RATING CHART
IP ("Ingress Protection") ratings are defined in international standard EN 60529 and rate the degree of protection provided by electrical enclosures against intrusion from solids and liquids (objects, particles, dust, water, etc.). The higher the value of each digit, the greater the protection.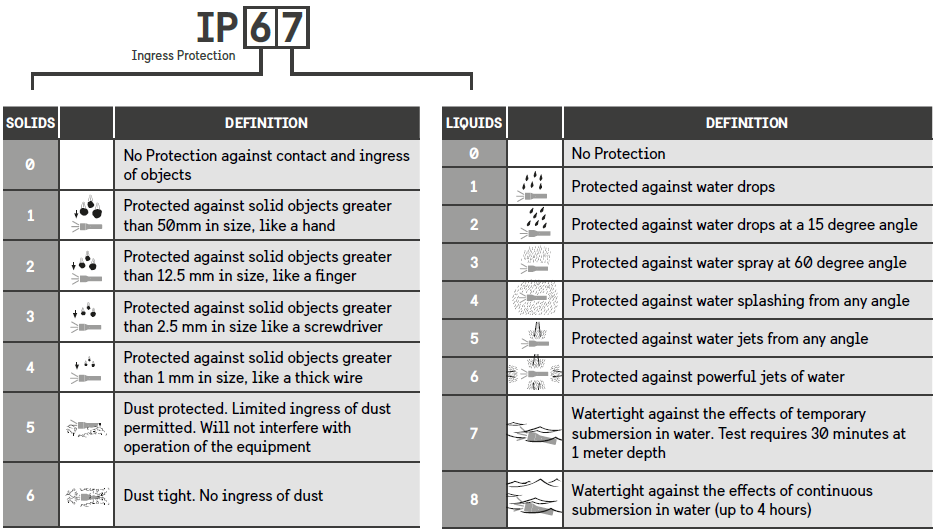 US VERSUS EUROPEAN CLASSIFICATION
What equipment is qualified for use in a hazardous area is regulated by different certifying agencies. In North America, FM (Factory Mutual) and UL (Underwriters Laboratories) provide standards, testing and certification in the United States while CSA (the Canadian Standard Association) does the same for Canada.
Outside of North America, ATEX (Appareils destinés à être utilisés en ATmosphères EXplosives) and IEC (International Electrotechnical Commission) provide standards that are recognised internationally.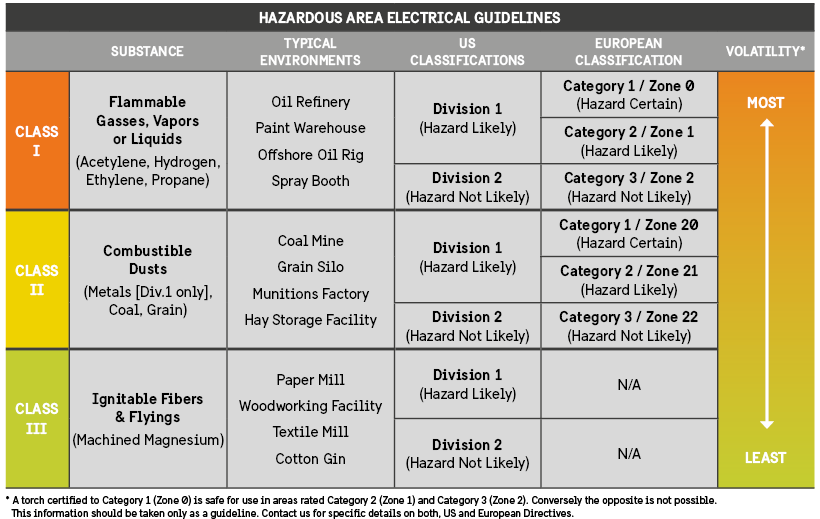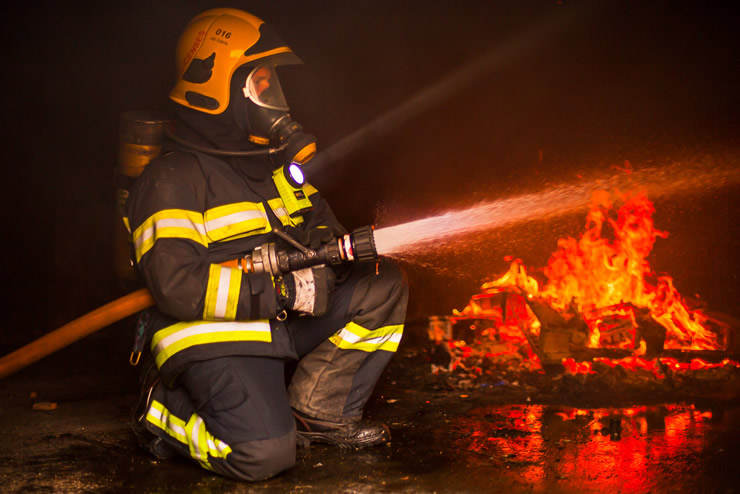 Since 1976 Peli Products has manufactured ADVANCED LIGHTING SYSTEMS with the highest Safety Certifications. Constantly innovating and always exceeding expectations, Peli is engineered for life.
Peli Products makes sure to comply 100% with all regulations and standards, even though this sometimes means higher investment in R&D or that it may lead to longer times until products can be released. Peli torches are built with the highest quality materials and to comply with the latest ATEX Directive (2014/34/EU), anti-static material is used when maximum allowed surface area is exceeded.
+ 20 models ATEX certified for Zone 0&1 areas
Made with tough Anti-static materials
Minimum IP54 Water and Dust Ingress Protection
Certified only by ATEX Notified bodies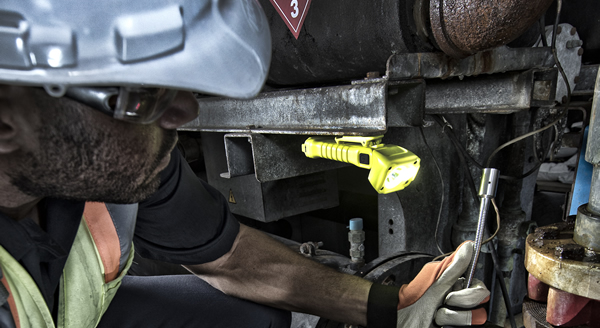 KEY FEATURES OF A SELECTION OF PELI ZONE 0&1 TORCHES, HEADLAMPS AND LIGHTING SYSTEMS.